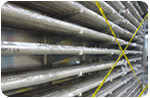 October 15, 2010
The first of two NCD racks was completed this week. A team of 6 relocated approximately half of the Helium-3 neutron counters to the HALO drift from the SNO control room.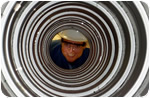 August 4, 2010
HALO's first graduate student successfully defended her Master's Thesis on the "Design and Construction of the Helium and Lead Observatory for Supernova Neutrinos." She will graduate this fall.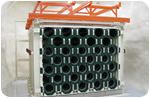 March 29, 2010
All 864 lead blocks are now assembled in the HALO array. The supporting superstructure on top of the array has also been included. Altogether the HALO lead assembly took 19 days.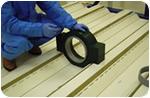 March 10, 2010
The steel superstructure has been installed in the HALO drift. The first lead block was placed today.